Psychosomatic Medicine Center
1.Introduction


The Psychosomatic Medicine Center is originated from professional branch group of Neurology Department. The professional group has carried out psychological counseling service since 1995, and performed a mental liaison consultation in the hospital responsible for the diagnosis and treatment of psychiatric and psychological illnesses since 2000. At the request of "Mental Health Development Program 2002-2010"—setting up the mental health-related disciplines in general hospital from The Ministry of Health, our hospital responded positively .on January 1st, 2011, the first Psychosomatic Medicine Center was established in our hospital in Sichuan province.
2.Specialty
Psychosomatic Medicine is a new interdisciplinary medical field, involving general internal medicine, neurology, psychiatry and psychology, which studies the relationship between psychological, social and biological factors associated with the onset and development of the diseases. it is more concerned about the the influence of psycho-social factors on health and disease, emphasizing the concept of unifying Bio-psycho-social etiologies. With the comprehensive and systematic development of science on human being, psychological and social factors on health and diseases the specialty is increasingly important. In fact, a growing number of diseases have been found not only related to the biological etiology, but also psychological and social etiology. These patients should be comprehensively and systematically diagnosed and treated.
We mainly treat mental, psychosomatic and psychological disorders, such as Anxiety, Depression, Phobias, Obsessive-compulsive Disorder, Hypochondriasis, Social disorder, Somatoform disorders, Schizophrenia, Alzheimer's disease, Eating disorders, Substance dependence, ADHD, Tic disorder, and a variety of psychological and mental disorders caused by physical illnesses.
3.Framework
The center is formed by medical group, care group, psychology group and physical therapy group to carry out the clinic work.
In addition to psychosomatic outpatient department, we have also set up memory disorders, sleep disorders and Psycho-cardiology outpatient department. Psycho-cardiology mainly indicates the cardiovascular diseases combined with mental illnesses or cardiovascular discomforts as the main complaints of the psychomatic diseases.
There are more than 60 beds in the inpatient ward. In addition to conventional medication, we also provide group and individual psychological therapy, therapy, physical therapy, and occupational and recreational therapy.
4.Our team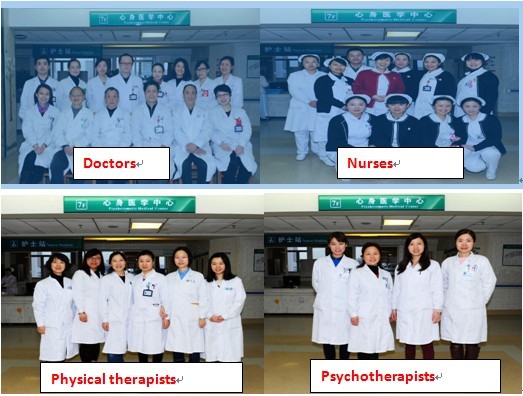 There are 42 staff, including 5 staff with doctor degree, 9 staff with master degree, 3 chief physicians, 2 associate chief physicians, and 8 psychological counselors with national certificate.
Physical group carry out specialist assessment and treatment. Physical assessment includes Eent-related Evoked Potential Examination, Pysomnography monitoring, and Pychological Evaluation. Physical treatment involves Biofeedback, Repetitive Transcranial Magnetic Stimulation, the brain electrical therapy, improved Electroconvulsive therapy, Acupuncture and other specialist treatments.
Psychological group conduct individual psychotherapy with special techniques such as sand play therapy, and a variety of group therapies, such as groups for Sleeping disorder, Major depression disorder, parent training camp, and social communication disorder.
Meantime, as the high-quality care ward, our nursing team always adheres to the aim of Taking patient as the center , Take the quality as the core. They hold the nursing care concept of responsible person-chain-sense to take the initiative for the sake of patients, optimize nurse-patient communication, and strengthen health education. This continuous high-quality professional care service has been highly appreciated by patients and their families, and awarded as the outstanding care unit many times.
In short, the multiple-integration therapeutic approach and high-quality care help patients rehabilitate and reintegrate earlier.
5.Our work

In addition to clinical work, scientific researches related to psychosomatic medicine are also carried out based on highly educated staff.
We have been committed to exploring the implementation and promotion of the integrated medical model by holding Psycho-cardiology forum and Psycho-gastroenterology forum with other related departments. At the same time, we also participate in the treatment of diabetes and obesity to improve the clinical efficacy of multidisciplinary cooperation in practice. We try to use the comprehensive treatment concept of Psychosomatic Medicine to improve ourselves and spread this concept to other disciplinary medical work.
Our department is also responsible for maintaining mental health for medical colleagues in our hospital by carrying out Balint group, psychological developmental team of employees, as well as treatment for occupational burnout.
On the World Sleep Day, World Mental Health Day, and World Alzheimer Day, we organize a large public service, such as holding public lectures and free clinic services in the community to improve the public knowledge of mental health. Before the annual college entrance examination, public psychological activities are also given to high school students to decrease their psychological stress. When the terrible Wenchuan earthquake and Lushan earthquake happened, our doctors were also actively involved in the psychological assistance of earthquake-stricken areas.
6.Achievements and future


Since the center was established, as a pilot unit of general hospital psychosomatic medicine center in Sichuan province, and standardized training base of psychosomatic medicine in Sichuan province, our operating mode has received the recognition of the colleagues from countrywide. We successfully held 3 sessions of General Hospital Psychosomatic Medicine Forum in Sichuan Province in 2011, 2012 and 2014, respectively. In order to promote the integrated medical model, our center has proposed that the general hospital above the second grade class should establish psychosomatic medicine department in Sichuan province according to the suggestion of the provincial Medical Association. Meanwhile, in order to further promote the development of psychosomatic medicine in Sichuan Province, Psychosomatic Medicine group of Sichuan Medical Association was founded under the organization of Provincial Medical Association on May 24, 2014. Prof. Bo Zhou, director of the department, held the post of the group leader.
Through the efforts of four years, our center has already established a high-quality clinical, research and teaching team. In 2015, the Annual Conference of psychosomatic Medicine in Chinese Medical Association will be undertaken by us in Chengdu. God rewards the diligent. Our team are working hard and looking forward to your approval.